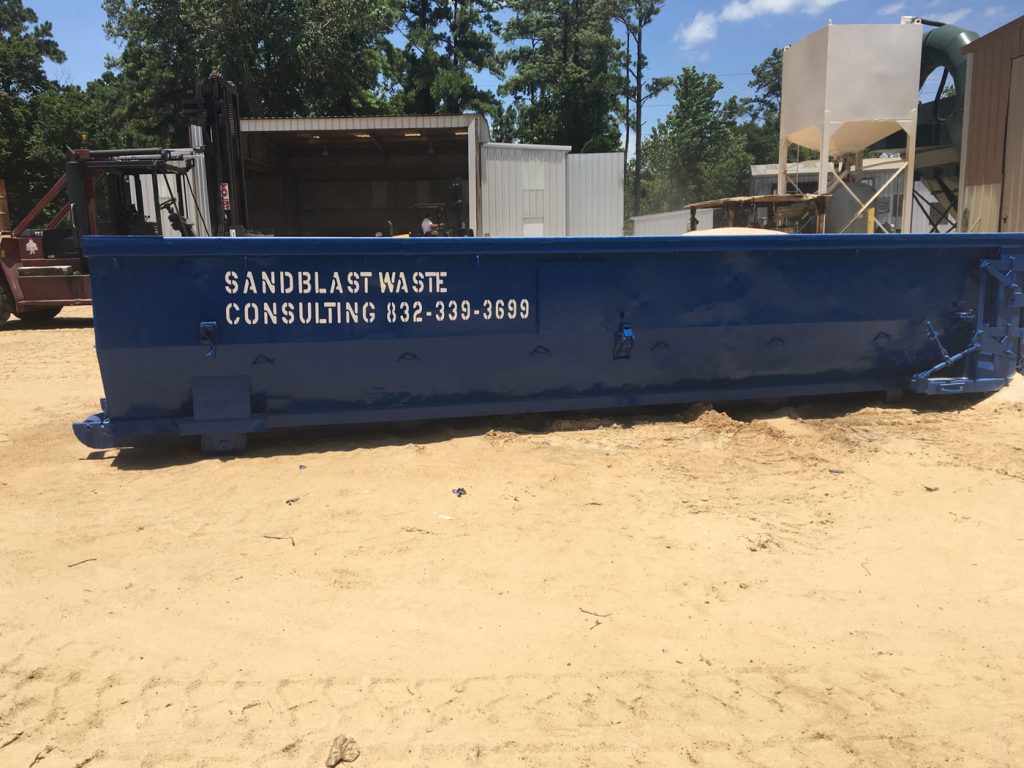 Our Recycling Abrasives Program Works
Our Advantage in Recycling Spent Abrasives
Our company structure allows us to offer recycling solutions at or near landfill costs (in some cases, even lower!) and at a fraction of traditional environmental consultants.  Each of us can make a difference by lowering our impact on the environment. Through SWC, this impact doesn't have to come at an outrageous expense!
No two facilities operation is exactly the same. Because of that, we analyze the operation and needs of each facility. We then tailor our program to function seamlessly around your existing operation. Whether that means using end-dump trucks, roll-off containers, or flatbed trucks, we can provide a customized, cost-effective solution. We recognize that change is difficult, so we strive to deliver a seamless transition for the customer.
Whether your project involves 5 tons in Webster, 500 tons in Cypress, or anywhere in between, Sandblast Waste Consulting can handle it!  We've even handled projects as far away as the greater Dallas-Ft. Worth area and West Texas.  Let us handle all of the paperwork and arrange all the logistics on your behalf, so that you can focus on your operation.
About Our Recycling Abrasives Services
Located in Houston, Texas, SWC specializes in the removal and recycling of spent sandblast abrasives.  Our expertise and focus centers on:
Oilfield Services

Infrastructure Rehabilitation Projects
On-shore/Off-shore Rig Fabrications

Shipyards

General Sandblast Applications
Elevated Water Towers

Ground Storage Tanks
Our primary goal is to provide our customers with an environmentally-friendly, socially-responsible, and cost-effective alternative to the antiquated industry norm of landfilling.  We have developed an extensive network of recycling centers, capable of accepting large volumes of a nearly endless variety of abrasives, including mineral slags (coal, copper, nickel), silica sand, garnet, Starblast, and many more.
At this time, Sandblast Waste Consulting only handles non-hazardous, industrial solid materials.  Generally, these are classified as Class 2 by the TCEQ.  If you're not sure about your waste material classification, please contact us.
Coal Slag (Black Beauty)

Silica Sand (Sugar Sand)
Nickel Slag (Green Diamond)

Copper Slag (Abrade-Away)
Crushed Glass

Green Lightning (Olivine Sand)
Garnet

Starblast and more
What Our Customers Say
"The guys at Sandblast Waste Consulting have done a great job the past years with our sand recycling program. We strive to provide great service at a fair price and we enjoy working with a company that shares the same values. We have a great relationship with SWC and plan to continue working with them in the future."
"Excellent customer service, consistent reliability and competitive pricing are just some of the reasons that we continue to depend on Sandblast Waste Consulting to accommodate our disposal needs. We value the relationship we have with the professional, friendly staff at SWC and look forward to working with them for many more years."